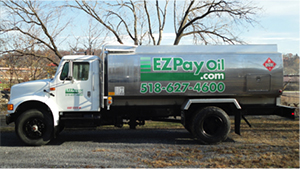 Discount Heating Oil in Montgomery, New York
EZ Pay Oil strives to provide the most timely, reliable heating oil deliveries throughout the Capital Region. In order to keep our fuel prices as low as possible, we only focus on fuel deliveries. You never have to worry about unwanted services, contracts or surprise fees. We don't cut corners or sacrifice any level of quality when it comes to getting you the fuel you need.


Just give us a call or access our online ordering portal to schedule your next heating oil delivery. We offer our top-notch delivery service all year long to ensure you have non-stop comfort. Our heating oil deliveries can keep your home warm and toasty in the winter, and prevent water, mold, and bacteria from building up in your tank during the spring.


No matter the season or day, EZ Pay Oil is ready to deliver the heating oil you need. We treat your home with the utmost respect and care. For discounted heating oil deliveries, give us a call at 518-793-7755 or click here to access our online ordering portal.